For years, epoxy has dominated the garage floor coating industry. Since the advent of polyaspartic coatings, though, there's been a shift in the tide. Polyaspartic coatings are growing in popularity as more and more people learn about them and how they compare to epoxy floor coatings. Both epoxy and polyaspartic are beautiful, durable, and long-lasting, but there are some marked differences that can cause someone to pick polyaspartic floor coatings over epoxy floor coatings.
Here is what you need to know about some of the top benefits of polyaspartic coatings that are converting more and more people to utilize this type of coating for their space. Let's dive in!
#1. 1-Day Application
You read that right. Polyaspartic floor coatings can be applied in one day, so that 24 hours later, you're free to walk on them, without fear of leaving marks or anything. Epoxy coatings are renowned for their extensive application process – it can take anywhere from a few days to over a week for an epoxy floor to cure. This is very inconvenient, especially if you're having to leave your car parked in your driveway or on the side of the road, where it's vulnerable to sprinklers, rain, the elements, and more. 
With polyaspartic coatings' fast cure time, you can have the floor of your dreams with only 24 hours of the aforementioned risks and inconveniences.
#2. No Fading Or Changing Color
Epoxy coatings are stunning, but not when they're been exposed to UV rays for an extended period of time, and have turned yellow or green. This is part of why epoxy floors are great for inside your home, but for your garage… Not so much. You don't need to worry about fading or changing colors with polyaspartic coatings, though.
This is because polyaspartic is a UV-stable material. That means that the color you select for your floor coating is the color it will stay for years to come, unless something strange happens, anyway. This is especially good for if you go custom with your floor coating, as it will look just the way you envisioned it for longer.
#3. Strong Without Being Brittle
Polyaspartic coatings are wonderful because they have all the durability of epoxy coatings, but without the risk of turning brittle that epoxy does. This is due to how it adheres to your concrete. With epoxy, it gets very hard, but it doesn't expand and contract with your concrete during temperature fluctuations. This means that an epoxy coating is more likely to crack and suffer damage.
Polyaspartic coatings, on the other hand, are able to withstand concrete expansion and contraction. If you live somewhere with temperature swings from hot to cold, polyaspartic coatings are flexible, and thus able to weather your concrete's natural process.
#4. Increased Durability
Both epoxy and polyaspartic are lauded for their durability, especially in high-traffic areas, such as your garage. However, polyaspartic has a leg-up on epoxy here. Polyaspartic coatings are proven to be stronger and more resistant to abrasion and other such damages than epoxy coatings are. That makes them the superior choice for areas such as your garage that withstand high levels of impact and traffic.
After all, floor coatings are an investment. You want to ensure that the one you have installed is one that is made to last. Given the fact that polyaspartic coatings are both stronger and more durable than epoxy, you'll want polyaspartic coatings for your floors, especially if durability is a non-negotiable for you.
#5. Environmentally Friendly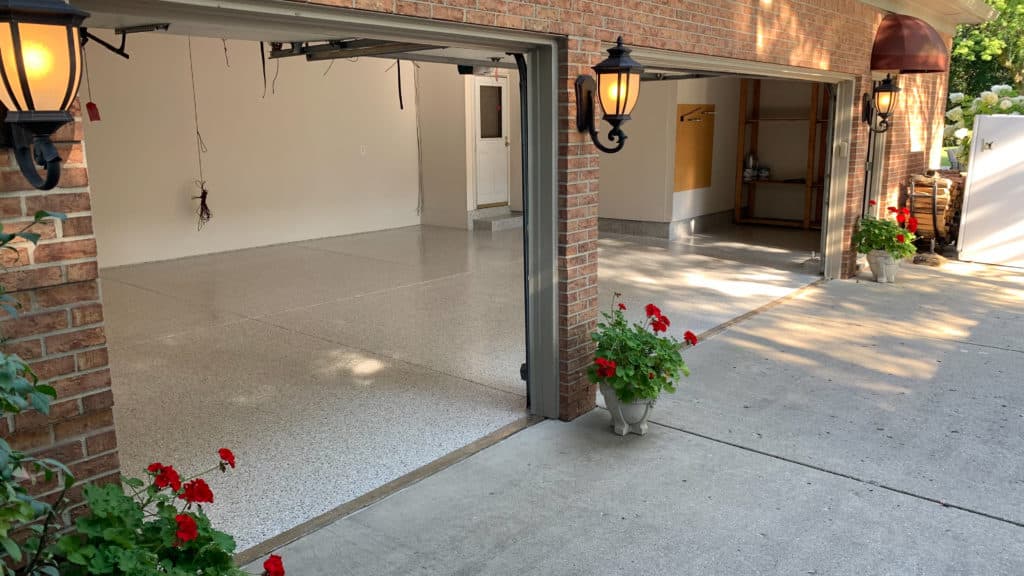 The problem with some types of floor coatings, such as epoxy, is that they can have high VOCs that lingers for days after installation. No one likes fumes, and the environment is no exception. However, polyaspartic coatings are solids. This means that they have little to nothing in the way of VOCs. This is better both for you and your health and for the environment and for the sake of sustainability. 
Environmentally friendly options grow increasingly more important as climate change worsens. Fortunately, when you opt for polyaspartic coatings, you're choosing a floor coating option that is better for the environment than some of the other coatings out there.
We Install Beautiful Polyaspartic Coatings
These are but a few of the many benefits of polyaspartic coatings. Surface Bella Garage provides exceptional floor coating surfaces that can transform your home in no time at all while lasting you a lifetime. To learn more about our polyaspartic coatings or to get a quote for your project, please don't hesitate to contact us today!